Consider some of the following tips to protect your floor during renovations.
1. Use Temporary Floor Coverings
A temporary floor covering is an affordable, efficient way to keep your flooring safe from damage. It's convenient to install, and it provides a clear walkway for workers. Choose a covering that's suitable for your flooring material and type of project.
The following floor coverings can protect most flooring materials against scratches and stains:
Floor cardboard: Laying down specialized cardboard can prevent dents on your floors during heavy-duty construction projects, such as adding or renovating entire rooms. Some floor cardboard products come with adhesive to prevent them from sliding on your floor's surface, but you could also use painter's tape to hold it in place.
RamBoard is a heavy-duty, temporary floor protection engineered with cost and efficiency in mind, it lays out fast and is re-usable. Exclusive Spill Guard technology provides added protection against water, paint, mud and more.
Masonite  this wooden board will guard your floors against all types of damage. Available in 4'x8′ sheets in 1/4″ or 1/8″ thickness.  Masonite is a great option for large scale projects with high traffic areas. It is durable and easy to install for heavy-duty use.   The sheets can be taped together with Duct Tape or any high strength adhesive tape to prevent shifting. Masonite  is great for moving large items with a dolly or hand truck. Its strong wood thickness allows maximum protection. While it can be the priciest option when it comes to floor protection, it's also the strongest and most durable.
Construction Paper:For lightweight coverage, construction paper is popular amongst contractors and homeowners alike. It is economical and easy to cut and install.  Specifically Gray Rosin Paper can be used as a "slipsheet" in flooring systems, installed between the sub-floor and finished wood flooring, to keep out dust and to help prevent squeaks.For enhanced protection for your floor's finish, you can stack rosin paper and hardboard. Keep in mind that rosin paper can stain your floors or tear, so you should only use it with a sheet of hardboard.
Adhesive floor protection film: Carpet Shield is a clear, self-adhering protective film that provides temporary protection for carpeting. The non slip surface is highly resistant to tears and punctures and is regular wound for easier application. Carpet Shield is the easy answer to messy carpet problems.  This high-quality film can also stick to your floors to guard against indoor and outdoor debris. Safe for you to apply directly onto your carpeting, hardwood floors and other flat surfaces. However, it's best to read the packaging to make sure it's suitable for your specific flooring material.
"Extra protection saves

you from extra work."
2. Apply Painter's Tape to Non-Adhesive Floor Coverings
If you use a temporary floor covering that doesn't have an adhesive, use blue painter's tape to keep it from sliding against the surface. This adhesive material can protect your flooring from paint spills and pressure from moving heavy equipment. High-quality blue painter's tape doesn't leave a residue behind when you apply it correctly to your floors.
Remember these tips when using painter's tape on your floors:
Use medium-adhesion tape: Your adhesive product should be medium strength. The tape should be strong enough to stick to your floors, but an adhesive that's too strong can leave residue behind.
Clean your floors: Before applying the product to your flooring, clean the surface to prevent residue and debris buildup.
Avoid using on newly finished hardwood floors: Painter's tape is generally safe to use on flat flooring surfaces. However, if you've recently had your hardwood floors refinished, you may want to stick it to the baseboard instead.
3. Determine Walking Routes
Establish a route for bringing equipment and materials inside and outside of the house. The whole construction team should know which areas of your property are prohibited so that no one tracks debris in those sensitive areas.
Follow these steps for creating safe pathways in your house:
Make them clear: Before renovations begin, think about what parts of the house that the construction team will need to access. Clear the pathway of furniture or any other objects that could make walking difficult.
Protect the walkway: Apply protective film or another temporary covering to designate where workers should walk.  Choose the best temporary floor protection based on the amount of traffic and scale of the project.
Stop Dirt at the Door:  If you suspect the  construction team will track mud into the house, place a DirtGrabber mat at each entry point. These adhesive/sticky/tacky mats grab dirt and debris from footwear and wheels, leaving floors clean and damage free. The Step n Peel Clean Mat is a polyethylene film mat with 30 Clear Layers of tacky surface.  Features a sturdy, reusable, backer board. 25.5″ X 31.5″
Wear shoe covers: Even though adhesive film and sticky mats can guard your floors against outside grime, shoes may still have stubborn debris on them. Instead of making everyone take off their shoes when they come into the house, you can get inexpensive shoe covers for them to wear.
4. Keep the Site Clean and Well Ventilated
Even with a temporary floor covering, your home will still collect small amounts of dust and debris, but it will be significantly less and much more manageable.  At the end of each workday, grab heavy duty contractor trash bags to pick up larger pieces of construction debris. Clean the floors with shop vacuums and sponge mops to prevent the spread of dust and other debris. If you're working with paints, clean up any spills as soon as possible to avoid permanent stains. It also helps to dispose of trash as you work to cut back on clutter.The site should also have adequate ventilation to protect your floors and the room's indoor air quality. Wearing face masks, respirator and goggles will protect your eyes and lungs from dust.  If you're working with harsh chemicals, use a fan or keep the window open. Besides chemicals, any dust or debris in the air can settle onto the floors and damage them.        Installing a box fan in the window can eliminate contaminants in the area and create a pressure barrier. This barrier prevents dust from circulating throughout the rest of your living space.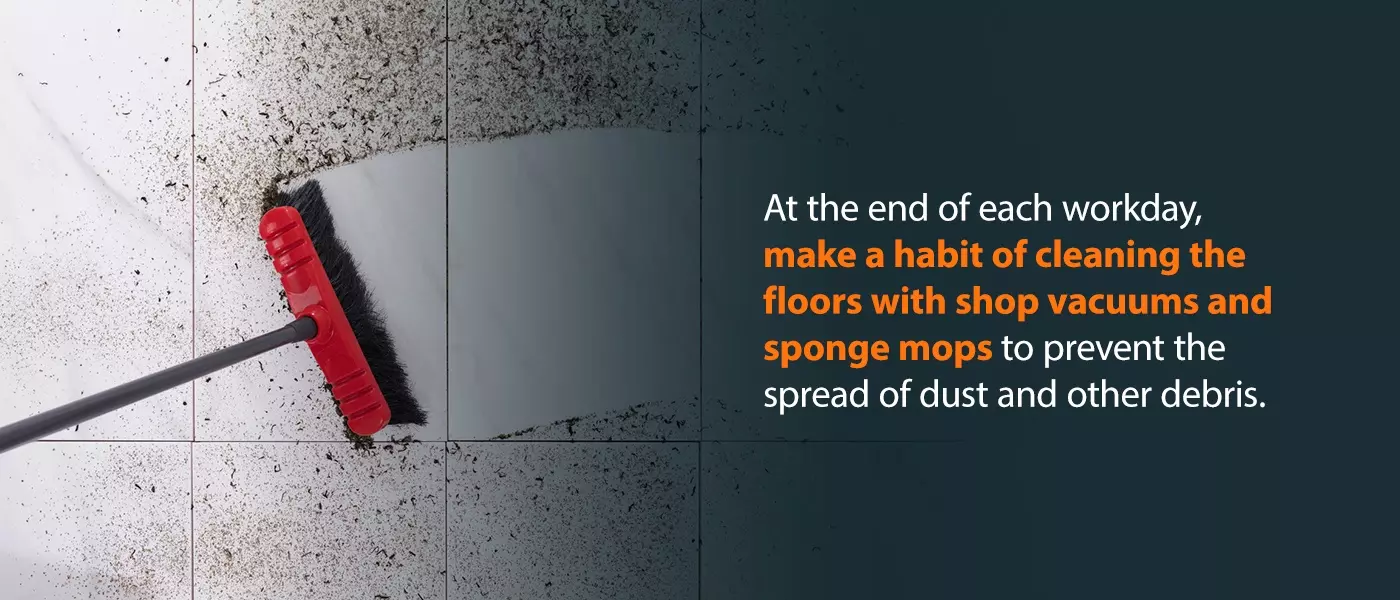 5. Seal the Rest of the Room
Dust and debris can float off your trim and walls and onto the floor. Besides protecting your flooring, you can also cover up the other areas in the room, such as:
Air ducts: Your HVAC system's ductwork could collect dust and spread it throughout the whole house, including onto your floors. If you use plastic to cover your ducts, you can hold it in place with painter's tape.
Baseboard molding: Paint spills on your baseboard molding can trickle down to your floors. Use a piece of cardboard or Ramboard and painter's tape to cover this component of your room.
Doorways: As you carry heavy objects into and out of a room, put a protective film over your door openings. Any chips or dents from bulky equipment could shed wood from the trim onto your floors.
Window treatments: Dust and debris can get trapped in your windows and curtains. Since you'll most likely have your windows open to provide ventilation, you don't have to protect them from dust buildup. Instead of removing your window treatments, you can wrap them with plastic to keep them clean.  There are several options for plastic rolls that are quick and affordable.
Appliances and Furniture –  Use corrugated plastic sheets like

COROPlast

to prevent damage and dust on to protect valuable furniture. The channels or "flutes" in a sheet of corrugated plastic act as a light-duty shock absorber, so glass and other more delicate materials are less likely to get broken. Plastic sheets are flexible enough to be wrapped around windows and doors to protect them from incidental contact by workers or equipment in the immediate area. Once the job is finished, the sheets can be stacked and reused at the next project or even recycled.
Our list of protection materials will make it easier to decide the best product for your job. Check it out here.